In recent years Minerva has paid a lot of attention to improving her customer service. After all, when customers are served well, they will come back and share their positive experiences with others.
One of those customers is Peter Claessen of Collins Aerospace. He even shared his enthusiasm and satisfaction with Minerva twice on LinkedIn.
Reason for Minerva's marketeer Jasper to ask Peter about his background and his general experience of Minerva.
Happy to be doing business with Minerva

Can you tell us something about your work as a Calibration Technician at Collins Aerospace?
I've been with Collins for 38 years now. I initially started as a mechanic and then grew into the role of planner and foreman. Eventually I ended up in the calibration department in 2000 and that's when I started working with Minerva. Back then, Minerva was much smaller than it is now. Minerva's technical director Carel Adolfse once helped me with a flow test after a leak and everything worked properly again as it should afterwards. We also received calibration training from Minerva here on site, so that we capable of independently calibrating our equipment. We always send our calibration standards to Minerva. Carel is easily accessible and he easily explains specific things to me in clear cut and understandable language. When I think of Minerva I am happy to be doing business with this company.
Why are you so happy with Minerva?
Minerva employs knowledgeable and helpful people, prices and service are good. Getting short turnaround times is never an issue if you communicate with Minerva early on when booking the calibrations.
The reports/certificates/notifications are also clear, their approach is proactive and the quotations are straight forward. Carel's technical knowledge is also of a high level; he knows a lot about calibrations.
Everyone in the calibration market knows Minerva. Minerva has a very good reputation.
I felt like sharing my enthusiasm about Minerva on LinkedIn
Recently I had a software problem with Compass for Pressure. Carel Adolfse then came over personally for a visit and quickly solved the problem for us. Than I felt like sharing my enthusiasm about Minerva on LinkedIn at the time.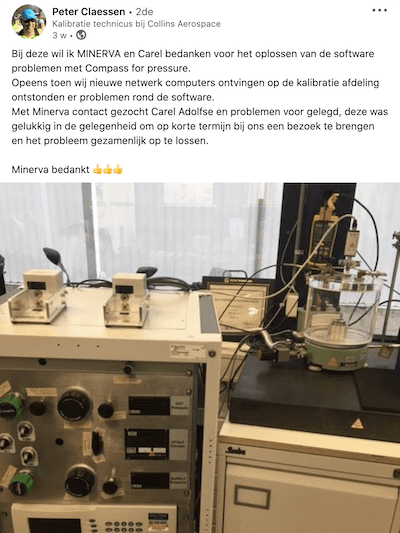 Minerva helped us out quickly and adequately too
Minerva's promise is Ensuring Carefree Traceability. Do you think this promise is being fulfilled to you?
Yes, absolutely. They think and act along rather well and Minerva is always actively on the lookout to find a solution to your problem.
Could you give us an example where we found a solution for you?
Right after the previously mentioned Compass software issue, I had a very positive experience with Minerva which demonstrated to me that Minerva lives up to its promises.
Our current calibration setup used for calibrating our Mensor sensors with a Ruska 2465 deadweight tester, which is over 30 years old, showed signs of leakage and had become dirty. As a result, we were not able to perform the any calibrations ourselves in the short term. I urgently called Minerva explaining our situation to Anita Koelewijn and what major problems this posed to our company and our customers. In this particular scenario, Minerva helped us out quickly and adequately too. I would like to thank Minerva, their team and in particular Anita and Peter van Werkhooven for the prompt service.