Keeping the Minerva promise: I enjoy transferring my knowledge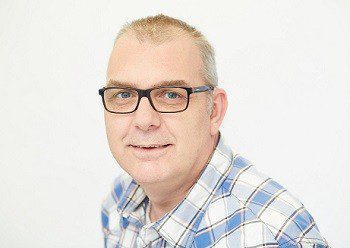 This is the eighth article in a series about how members of the Minerva team think about the core values and contribute to Minerva's customer promise: "ensuring carefree traceability".
We talk to Gerard Ruiter, Calibration Technicianabout his role in the laboratory and the importance of transferring knowledge and experience.
Good at deadweight testers
Gerard, what can you tell about your role as Calibration Technicianin the Minerva team?
I do everything that needs to be done on every machine in the lab. For example, I work with an FPG, a device that we use to calibrate under very low pressure. I also work a lot with an Automated Mass Handler (AMH). Besides that, I am also very active with cross-floating because I calibrate many deadweight testers. I also hear from others that I am good at that.
Furthermore I prepare data sheets, calibrate devices and make sure that it can be returned to the customer after Peter has issued a certificate.
What about your job do you enjoy most?
I really like everything about my work, I fulfills me and it suits me very well. I also have freedom within the company. And what's more; we have an incredibly good atmosphere and very nice colleagues.
Showing customers how Minerva performs cross-floating
In your opinion, what does Minerva's promise of "ensuring carefee calibration" mean?
I hope it means that customers can have their equipment calibrated at a very high level.
How do you contribute to Minerva's promise, "ensuring carefree traceability"?
That is what I actually do every day. I don't do that alone, but we do it together. We can often complement each other well. I am currently also busy training a new colleague. And I also receive customers who want to see how Minerva performs cross-floating.
I enjoy transferring my knowledge
What is your personal promise to Minerva's customers?
I think it's important to have done the best I can in my job. At the same time I consider my job as teamwork. The strength of Minerva is that we are heading in the same direction. I want to do my job well and I enjoy transferring my knowledge. In the past I have done the same with my work at Mitutoyo.
For example, I have written many manuals for the repair, installation and connection of equipment and the construction of a set-up. You must be able to explain it so simply that you can explain it to anyone. Often also with photos. The advantage is that you do it faster next time.
Urgent orders are never a problem
Minerva's core values are integrity, innovation, skill, involved and service oriented. Could you give an example of each?
Integrity is definitely something we stand for at Minerva. I think we should be honest with each other. We are honest with customers and with each other if something goes wrong.
Innovative suits Minerva, because of the products that our technical director Carel Adolfse is currently developing, like the high pressure controller.
At Minerva I think we are very skilled. If I take a look at myself, I think I have developed well in four years. That is also because of my colleagues who have guided me well. And I like to pass on my knowledge again.
I think involved fits us. It appears from the fact that everyone is attracted to it, everyone goes for it. The Minerva colleagues have a strong mentality, everyone is doing their best.
At Minerva we are definitely service oriented. Urgent orders are never a problem!
juin 26, 2019