New product: Minerva Portable High Pressure Case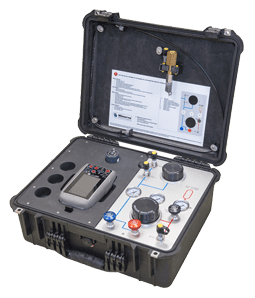 In February, Minerva introduced the Minerva Portable High Pressure Case for Fluke, GE and Additel. In March we introduced another version for Crystal. And this month we realeased the case for Beamex. The case fits digital pressure gauges and multifunction calibrators with pressure modules. 
It offers improved efficiency to quickly and safely perform clean, high pressure calibrations at your own location.
Advantages:
Perform safe pneumatic calibrations up to a maximum pressure of 25 MPa
Pneumatic calibrations do not contaminate the DUT with oil or water
Perform precise test pressure control using a pressure balanced volume adjuster
Pneumatic calibrations eliminate trouble with trapped air in a hydraulic system
Quick and easy exchange of calibrator pressure module or digital gauge
Beamex, Crystal, Fluke, GE and Additel
The Minerva case is especially developed to fit Crystal/Ametek XP2i and the M1 Series digital pressure gauges, Fluke 2700G/700G multifunction calibrator, Fluke 725/726 digital pressure gauges, GE dpi 620 and GE dpi 620 PM pressure modules, Beamex MC5 and MC6 multifunction calibrators. and Additel 68X and 672 digital pressure gauges.
Description of the Minerva Portable High Pressure Case
The built-in high pressure gas storage system is filled through the appropriate connection. Three separate monitor gauges are mounted to indicate storage system pressure, regulated pressure and pressure at test ports. The maximum test pressure is set using the supply regulator. The test pressure at the two test connections is precisely controlled by two fine metering needle valves and the pressure balanced volume adjuster.
The installed digital pressure gauge displays the test pressure. Externally generated pressures can also be measured via the test connections. The instrument is supplied with quick-connect test and filling hose, a 1⁄4" NPT male adaptor for the test connection and filling and a refill connector.
Find out all technical specifications and fitting models for Crystal, Beamex, Fluke, Additel and GE calibrators.
Product Demonstration video
This video is one example and shows the demonstration of the MNR 350 - G620 for GE dpi 620:
You can find all Minerva product demonstration video's for Fluke, GE, Additel, Crystal and Beamex on our youtube channel.
ABOUT MINERVA METROLOGY AND CALIBRATION
Minerva Metrology and Calibration is focused on providing premium calibration services and products, ensuring carefree traceability for our customers.
For recalibration and service of pressure calibration equipment we have extremely knowledgeable staff and a very well equipped, innovative and ISO/IEC 17025 accredited laboratory. Within the BeNeLux we also supply pressure, mass flow, electrical and temperature calibration equipment as well as calibration software. Worldwide we sell our own product line of Minerva calibration equipment.
More information needed or would you like to become a distributor? Feel free to contact us via +31 33 46 22 000 or sales@minerva-calibration.com
avril 14, 2017