At Minerva we believe in the power of working together. It is nice to cooperate with people and companies that share our values such as innovation and personal involvement. A perfect example of that is STIKO.
In this article you will be able to read how the people working at this innovative company experience collaboration with Minerva.
Unique gas-filled thermometers
Alex, could you give us some background information on STIKO from your position as Managing Director?
"Since 1963, STIKO has been producing state-of-the-art mechanical equipment for temperature, pressure and calibration. The company was founded by Mr. Stiller and Mr. van der Kolk, two engineers who combined forces and who literally started the company in a garage.
They started off by manufacturing thermometers. Shortly after, these innovative pioneers developed gas-filled thermometers which they had patented. With these gas-filled thermometers STIKO had a unique value proposition in the sixties. This was a time when Mercury-filled thermometers were widely used still though their use was debated more and more. The STIKO invention was received rather well and more manufacturers ended up becoming customers, growing our business (internationally) and ultimately leading to us moving from our old building to a new industrial location within Roden.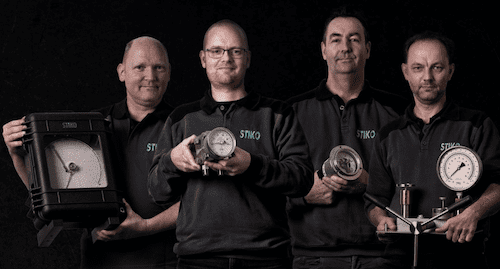 A couple of decades later in 2020, 50 people are employed by STIKO and we service clients in 50 countries all over the globe. Our clients mostly operate in oil and gas industry, on & offshore, (petro) chemicals, pharmacy, food & dairy and maritime industries.
Reliability, flexibility, involvement, and quality are key factors to STIKO.
As of 2019 we are part of Ashcroft, a world-renowned industrial organization which operates in the United States, Mexico, Brazil, Germany, China and Singapore."
A professional partner who takes care of business and unburdens
Alex, could you tell us a little more on the cooperation between STIKO and Minerva?


Alex: "Our companies have been working together since the nineties and we supply Minerva with manometers. At the same time, we have been a customer with Minerva for years now. A story worth telling is our collaboration on the development of a new STIKO deadweight tester including a very accurate piston cylinder. This development ultimately led to a new business line being opened for STIKO with high-end products being added and resulting in satisfied customers, Minerva included. We are proud of that as Minerva generally asks a high level of accuracy in all their work. We outsource calibration of the deadweight testers to Minerva as accredited calibration is a requirement.
The partnership with Minerva is quite valuable to STIKO. We even had a shared stand on a fair in the past to combine forces and promote both our businesses at the same time.
Another great example would be that we invest time to exchange knowledge about each other's products and services to improve our partnership. I look at Minerva as a reliable and accurate partner that unburdens our business. I appreciate Minerva's growth and the level of professionalism."
Personal and quick action
I also had the opportunity to talk to Gert Ploeger, draftsman and planner and Klaas Hingstman, who supervises the manufacturing of the deadweight testers at STIKO.
Gentlemen, you are in touch with Minerva daily. Could you tell us a bit more about your experience working with Minerva?
Gert: "Besides my role as draftsman and planner I am also involved in the process of outsourcing calibrations to Minerva from point A to Z. The equipment we outsource is STIKO's own but of other customers too. I am happy with Minerva. It is easy to get in touch, the personnel are knowledgeable, and our orders are listed neatly in your portal. That puts Minerva in a position to answer our questions and act quickly regardless of the person they are speaking to. "
Klaas: "I have known Minerva for over 30 years now, ever since I first started at STIKO. I appreciate the level of expertise. I remember vividly the six weeks I spent at Minerva enrolled in a calibration course, taught by technical director Carel Adolfse. Apart from that I also think Minerva communicates in a personal way, whether it be by e-mail or phone but also on the website and in the newsletter. "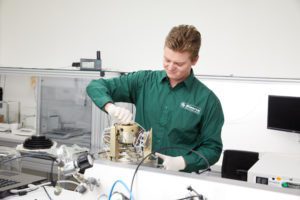 Gert: "I appreciate Minerva inviting me for the customer open-house day two years ago. It was quite interesting to see the laboratory up close and I liked meeting several of its employees personally whom I had only spoken to prior through e-mail or phone.
Minerva stands for quality and reliability. Lead times and delivery dates are met properly, a deal is a deal. Our equipment is handled with care and returned to us in good condition and of course calibrated.
The certificates received along with the equipment look professional and are listed in orderly fashion on the Minerva portal.
I would definitely recommend Minerva as calibration partner."