Relative 
humidity calibration
If your company depends on accurate and traceable relative humidity calibration of the measuring equipment, you'll be pleased to know that specialist help is at hand. At Minerva Metrology & Calibration, we've been helping calibration laboratories and departments with service/maintenance and recalibration of their primary and secondary standards for more than 30 years.
You can be assured that your most accurate relative humidity calibration and measuring instruments are in good hands with us.
Our team works quickly, reliably and transparently to provide you with a carefree traceability.
What is relative humidity calibration

?

In many machines, devices and rooms, relative humidity and/or dew point is measured. This is essential for optimal performance of the device, process or room in question: think of a sauna, the indoor climate in fruit and vegetable greenhouses, and during the transport of vegetables, fruits and medicines.

Other examples of where humidity calibration is required are manufacturing processes in the refining industry, the food industry, the chemical industry and in pharmaceutical production. In those industries, relative humidity sensors transmit the measured value to a central control computer.
Humidity calibration is comparing a relative humidity measuring instrument (machine) or device with a calibration standard. This is how we determine the measurement deviation (bias), by comparing with a calibration reference or calibration standard.
We compare a number of measured values of  your instrument with a calibration standard that can be traced back to (inter)national standards. We calculate the relative humidity (RV)  from the vapor pressure (e) and the saturation vapor voltage (eS) at the prevailing temperature (T).
Why use Minerva Calibrations for humidity calibration

?

You can trust our experienced team with your relative humidity instruments – we work for more than 1,000 customers across 69 countries. Many of them have been customers for a long time and that is not without reason. We believe in technology, innovation and communication, but we also know that calibration service is work for and by people. That is why we arrange for you to have access to a permanent contact person to offer a truly personal service. This assist your rapid maintenance requirements.

We take pride in maintaining, repairing and calibrating the most accurate equipment – and this is something that is echoed in feedback from our customers. Our innovative and ISO/ IEC 17025 accredited lab is equipped with high-quality and accurate measuring equipment.
We also collaborate with fellow calibration labs that operate at the same level. This means we can be sure that your temperature measuring and calibration equipment is calibrated at the highest standard for the best possible measurement results.
Our services stand up to the rigour of the demands of customers in NMI's and high-tech companies in aerospace, gas and oil, pharmaceutical, electronics and medical equipment – customers who are happy with our service time and time again.
At Minerva Calibrations,  we understand the inconvenience that repair or humidity calibration presents, which is why the Minerva online portal facilitates direct insight into the service progress, wherever you are!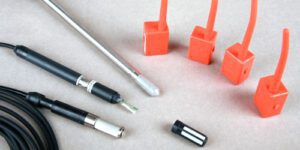 Benefits of relative humidity calibration
Correct and reliable humidity measurement
Optimal performance of your instrument or machine
Prevents waste
Process improvement and profit optimalisation
Detection of obsolete equipment
A large number of brands
We maintain, repair and calibrate a wide range of relative humidity measurement and calibration equipment from different brands.
These include: Fluke, Hart-Scientific, Rotronic, MBW, Thunder-Scientific, Vaisala, Kambic, Michell, Edgetech, Fensor, Geo-Calibration, Kaymont, General Eastern and Testo.
Costs of relative humidity calibration
Every request is unique, and therefore, the costs will differ. We determine the total amount on the basis of the type of relative humidity calibration measuring instruments, the maximum inaccuracy of the instrument and the measurement procedure.
We will send you an exact quote – just send an email to sales@minerva-calibration.com. Simply provide a brief description of your requirement within the e-mail, and let us do the rest!
You can also click on the quotation request button below.
For your relative humidity calibration needs, a
sk Minerva Calibrations
Are you looking for a professional and reliable partner for your precious instruments? Minerva Metrology & Calibration has been active in calibration of high-quality relative humidity calibration measuring instruments for more than 30 years – no device will surprise us!
Our team is highly trained, yet we are committed to continuously improving the quality of the calibration process. This results in short lead times and high customer satisfaction.
Take advantage of our knowledge and experience and contact us for your challenge.