The Minerva booster package generates high gas pressure from a lower gas pressure. The booster is a two-stroke single stage, reciprocating pump that operates continously until the ratio of the drive air on the low pressure psiton and the pressure on the high pressure psiton is in equilibrium.
The output pressure is defined by the drive pressure which the user sets with the built-in regulator and gauge. On the high pressure side an accumulator followed by a high pressure regulator dampens the effect of the booster cycling, assuring a stable and continuous output of pressure.
The high pressure gauge allows the user to observe the high pressure regulator setting.
How it works
(1) Drive air inlet filter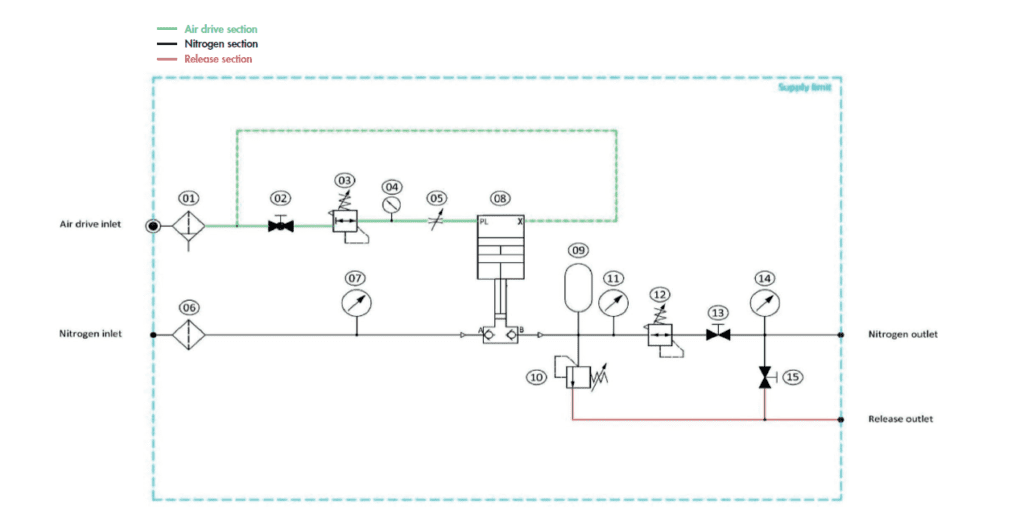 (2) Start/stop ball valve
(3) Drive air regulator 0-10 bar
(4) Drive air pressure gauge 0- 10 bar
(5) Speed regulator
(6) High pressure inlet filter
(7) Inlet pressure gauge
(8) Booster
(9) Buffer, 63 cc
(10) High pressure safet valve
(11) Buffer pressure gauge
(12) High pressure regulator
(13) High presure block valve
(14) High pressure outlet gauge
(15) High pressure relief valve