Minerva to offer carefree "electrical calibration"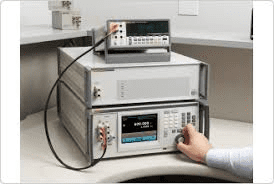 Expansion of scope
Minerva has recently expanded the range of its electrical parameters in ISO 17025 accredited scope.
The diversity of equipment to be calibrated in Minerva cal lab is growing every year and the more pressure instruments have the capability to measure electrical parameters like 0-30 Volt or 4-20 mA. To ensure that we maintain to provide a short turn- around time we have invested in new equipment to expand our technical scope.
Our lab is equipped with high-quality pressure calibration standards to calibrate your equipment with high accuracies. We are pleased to inform you that from now on we can help you with a carefree "electrical calibration" as well.
Equipment we can calibrate 
We can calibrate equipment such as:
digital pressure gauges that can measure electrical parameters'
pressure calibrators that can measure electrical parameters;
multifunction portable process calibrators that can measure pressure, temperature, electrical parameters like Volt & mA, ohms and thermocouples and RTD's.
Help or more information
Would you like to know more about whether we can also calibrate your equipment electrically? 
Please contact Siebe Borger: +31 6 53 29 36 84 or siebe.borger@minerva-calibration.com
November 30, 2020