A conversation with Sander Schuilenburg about his career at Minerva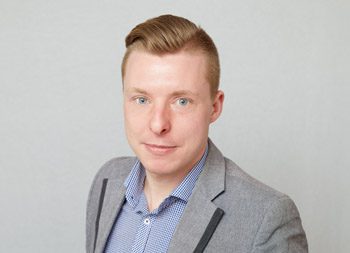 You can learn a lot here as young professional in a short time
Seventeen people work at Minerva in various roles, with different backgrounds and of all ages. Sander Schuilenburg started in 2018 as a temporary employee at Minerva in the sales department. Together with Jim de Rouw and Tim van der Maarl, Sander is one of the three young talents at Minerva.
This is part two of a series about the career of the young talent within Minerva. Sanders' career shows that young employees at Minerva are given plenty of opportunities.
Minerva is a small company, you know everyone
Sander, can you tell us something about your background? And how did you start your career?
"I studied International Business & Communications at the Arnhem Business School. This is an undergraduate communication course, with a focus on the international market. Before working at Minerva I worked a number of jobs. For example, I worked at Bol.com in Utrecht, I was in the partner service department. Daily tasks were coordinating the transactions between sellers on the platform and the end customer. I had a lot of contact with peers, which was fantastic. I also worked for a large international transport company as a customer contact officer. It is a German company and organized quite hierarchically, complete with clocking in and clocking out system. To me this felt a bit too controlling and was missing freedoms and very soon knew I wouldn't be happy there".
How did you end up at Minerva?
"I received a call from an employment agency asking if I was interested in a job at Minerva. After a constructive conversation I started my job at Minerva at the end of 2018 on a temporary basis as back office and sales representative. I received training in the sales department and immediately liked my work and the atmosphere. Minerva is a small company; you get to know everyone".
Fulltime as Team Leader CSD
You have made quite a few steps within Minerva since 2018. Can you tell us about that?
"My temporary employment contract was 'bought off' by Minerva and they offered me a fixed contract after a few months. Initially I worked in Sales fulltime, then transitioned to half the time Sales and the other half in the Customer Service Department (CSD) as they were severely understaffed and could use some help there. After several personnel changes and an evaluation with the MT, we concluded that my strength lay in coordination of the work at CSD. In 2019 I started working full-time at CSD and became a Team Leader there".
What do you do in your current role as Team Leader CSD?
"I am the main point of contact for the customer and our lab for pending orders. In addition, I ensure that orders run smoothly both administratively and operationally.
There has been a growth in demand for calibration and repair services compared to early 2020, before the Corona pandemic. It is sometimes a bit of a struggle to keep up with the workload but nevertheless it is fun to get the work done and despite the work pressure mounting sometimes the atmosphere is good".
Personal responsibility and compliments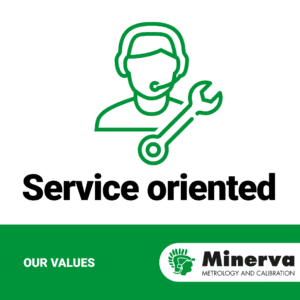 What do you like most about your work at Minerva?
"The responsibility to keep the wheel turning. I can see the direct result of my actions. Added bonus is when customers pay us compliments which is a nice coronation especially when you have gone the extra mile to provide the best service".
What do you like about the Minerva company?
"I like the personal touch: it is a nicely balanced combination of professional and informal. There are short lines of communication, and we work pragmatically. Minerva values ​​integrity, honesty and acting in the interest of the customer; we are all humans at the end of the day. Minerva has therefore built a solid reputation in the calibration market. I enjoy working in an international setting and my study background is definitely beneficial to this".
Minerva's position in the market strengthened
What has changed at Minerva over time?
"Over time we have experienced substantial growth in our service workload. Minerva has become an important point of contact and stable factor in the metrology field. We try to run our customer service department in a way that makes us easy to approach to our customers.
In recent years, we have strengthened Minerva's position in the market by intensifying cooperation with our partners 1ACal and iMetrologie. As a result, we can now provide customers improved service with temperature and electrical calibrations in addition to pressure. We have made agreements with our logistics partners so that we can offer our customers more flexibility. We can now also handle specials with the Minerva collection and delivery service and additionally, we have also become faster with customs formalities due to the standard procedures we have developed".
You can learn a lot here as a young professional in a short period of time
What opportunities has Minerva given you in your career?
"I got the chance to find out what I really liked and where my ambitions lay in business. Working at Minerva I discovered that I like being the stereotypical spider in the web and eventually I wish to grow into a management position. I wanted to learn a lot and I experience most personal growth when I am given a lot of responsibility and freedom to do my work. I feel like I got just that and the space to grow professionally. I think that CSD has developed itself in recent years and is now a very stable department within Minerva.

What advise would you give a young professional looking for a job?
"If you are looking for a new challenge after your first job, Minerva is a very suitable company. Minerva has a strong, small-scale foundation and therefore is a stable environment to develop yourself in. Quality over quantity at Minerva and as a young person you can learn a lot in a short time in a technical and professional company with a broad customer portfolio in an international environment. It provides an excellent basis to develop yourself".
November 28, 2022