Keeping the Minerva promise: Jim de Rouw shares his thoughts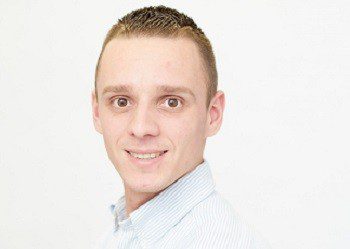 This is the third article in a series about how members of the Minerva team think about the core values and contribute to Minerva's customer promise: "ensuring carefree traceability". 
Jim de Rouw is the third to share his thoughts. 
Doing what the customer ultimately pays for
What can you tell about your role as senior lab technician in the Minerva team?
Since six years now I am working at Minerva and for two years I am a lab technician.I started on the logistics department and after that I worked at the service and repair department. In the lab I prepare and execute calibrations and I make the datasheets. Also I do the processing of the orders in our back-office system, Interleave. I make sure that everything is ready for a final assessment in order to make the certificate for the customer.
What do you like the most about your job?
I like the team in which I work, my colleagues are fun to work with. And I enjoy the calibrations I execute. My role is varied, when I start my day, I never know exactly what I will do beforehand. There are often questions from the customer in between in a regular process, we always try to make time for that.
What does Minerva's promise "ensuring carefree calibration" mean for customers in your opinion and what is your contribution to it?
Delivering reliability and good quality for the customer and try to make the turnaround time as short as possible. I want to ensure that the customer gets a correct certificate, because that is what he ultimately pays for.
How do you know if you have been able to fulfil the Minerva promise? Can you give an example of this?
Usually If I don't get complaints I have done a good job. Rarely but luckily we hear that a customer is happy with the way that we have serviced him.
Openness is always appreciated
The core values of Minerva are integer, innovative, skilled, involved and service oriented. Can you give an example of each core value?
At Minerva we are integer, we are always very open and honest about the turnaround time and if issues occur. I think it is important to perform and register a calibration correctly and accurately. But integer also applies to dealing with colleagues. I try to inform them as well as possible about actual matters, even with issues. For example, a lead time that is not met by a leak or a defect. A customer always wants to hear from us, even less pleasant messages. Openness is always appreciated by a customer is my experience.
Minerva is innovative because of the lab we work in, that is quite special. I can recall that people from Fluke in the United States and from the national measurement institute visited our office. They were very impressed by the Minerva lab about how innovative the lab itself is and the equipment that it contains. But I also find the transport options for heavy equipment innovative, we use carts so we do not have to lift physically. Another innovative aspect is that we always look for improvements in our lab to see how something can be done better or smarter.
We are skilled because we work in an organization where top notch knowledge is very important. We work with specialists who carry years of experience and have gained knowledge in practice. I also notice that I can perform calibrations faster because I have learned a lot. Diagnosing equipment or assessing issues is becoming faster, sometimes even during a measurement if for example a certain curve deviates.
The customer portal gives a lot of rest

Involved is also typical for where Minerva stands for. I notice that at Minerva there is a lot of involvement with the customer and that his or her wishes are central. Customers are also kept as informed as possible of what the status is. The Customer Portal is also an example of this. The customer can always see the status of his equipment in the portal. That gives the customer a lot of rest and can save a lot of emails and phone calls. We always have to remain alert, also regarding safety. A good example that I heard from a trainer in the United States is that someone routinely made a decision that caused a cabin of an airliner to explode under relatively high pressure.
I think that Minerva absolutely is service oriented. In everything we do at Minerva we try to provide a good service to our customer. If you look specifically at the service we provide from the lab, we always clean everything, which is appreciated by our customers. If a customer calls who has an instrument that needs to be returned quickly, I try to help as good as possible. Also by doing a small repair in between. Flexibility is important to me!
October 3, 2018