Keeping the Minerva promise: Stella Agiostratidou shares her thoughts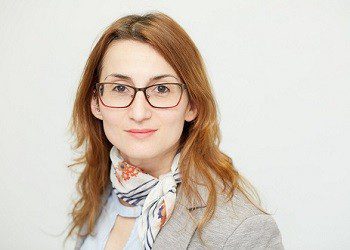 This is the second article in a series about how members of the Minerva team think about the core values and contribute to Minerva's customer promise: "ensuring carefree traceability". 
Stella Agiostratidou is the second to share her thoughts. 
Make the impossible possible
What can you tell about your role as sales support in the Minerva team?
At the Customer Service Desk, my tasks concern not only the customer service but also the internal coordination of orders. Whether this concerns a delivery of a new purchase, the repair and calibration of an instrument or ordering spare parts. I monitor all the orders from the point that they come in, till the moment they go out. If a planning has been made already by Sales, it will be reviewed and followed up with the customer. If no planning has been made, then we do all the arrangements, we check with the laboratory whether a specific calibration can be performed within a certain amount of time and make an appointment if this is the case. I think that customers appreciate if there are no unexpected delays. I make sure that the customer stays up-to-date during the process.
What do you like the most about your job?
I love the coordination of the orders. I enjoy managing complex situations and issues. I like to get involved and pull the strings in order to make the impossible possible.
What does Minerva's promise "ensuring carefree calibration" mean for customers in your opinion and what is your contribution to it?
Establishing and then keeping up a good communication with the customer is a key aspect. If the relationship is not there, I try to find ways to establish it. I want to make sure that a customer can rely on a lead-time that is promised to him or her. When issues occur I think it's very important that customers get the right updates, proactively.
Personal touch
What is your personal promise to customers of Minerva?
Minerva is a small company and that has its benefits for our customers. I want to make sure to add a personal touch to every order.
How do you know if you have been able to fulfil the Minerva promise? Can you give an example of this?
If the customer has a request I like to take the time to explore different options. This takes some time, but in order to service the customer, it pays off. If you really do your best, you gain a happy customer, because he or she knows that they can rely on me. As an example, when an instrument comes in, I check the history and I see what happened the previous time. Since we have a good back-office system this helps us to process every order even better.
Bringing Minerva's values to life
The core values of Minerva are integer, innovative, skilled, involved and service oriented. Can you give an example of each core value?
At Minerva we are integer. When we receive an order and there are delays, we don't hide this, we are transparent, explain honestly and discuss the options to resolve the order.
Innovative is also a relevant keyword at Minerva. The products are innovative because Minerva's CTO, Carel Adolfse materializes new ideas. I find that fascinating. Our innovative products help customers who sometimes have been seeking for a solution for a long time.
Minerva is very skilled. First of all the management team of Minerva has an extensive knowledge, experience and comprehensive network. Also the sales team, like Anita for example, is very well focussed on details. This is important for a seamless process and therefore customers barely have any questions.
We are involved, because we give a personal touch to the orders. When a customer calls us with a request we talk them through all the details. When the order is processed, it is checked more than once.
Lastly, service oriented is a value that also describes Minerva properly. We pro-actively take actions to avoid any hiccups in the process of service and calibration. The instrument is checked thoroughly when it comes in at Minerva. Furthermore in the process the lab team will observe, report and do the quality checks. The customer will always be informed of every single step in the process.
But most important I think, in keeping the Minerva promise is to give a personal touch to every order and to communicate with customers pro-actively.
July 19, 2018