[wpseo_breadcrumb]
Keeping the promise: a customer will be guaranteed a good and clear answer to their enquiry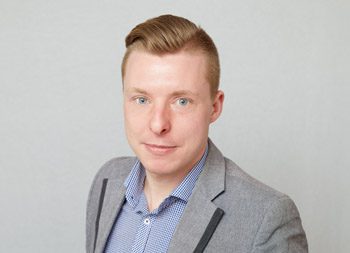 This is the twelfth article in a series about members of the Minerva team and how they think about Minerva's core values and contribute to the customer promise: "ensuring carefree traceability". 
In times during the COVID-19 outbreak we talk to Sander Schuilenburg, about his role, his contribution to the customer service and Minerva's promise. 
My contribution can mean a lot to customers and colleagues alike
What is it that you do in your role as Customer Service Desk employee at Minerva?
It's a pretty broad title, we are the first line of contact for all (service) enquiries from customers. Think of questions about delivery times, ongoing calibrations or problems the customer might have, for example if instruments are defective. In some cases, new equipment will have to be purchased if repairs are no longer possible. Whenever that happens, I forward these enquiries to my colleagues in Sales. Other duties include order processing, safeguarding Minerva's quality standards and liaising with other departments and business relations.
Part of the job is understanding what your customer is trying to communicate. You must get a feeling for the conversation and the type of customer. Depending on the situation, sometimes it's simply important to keep a conversation concise as no one wants to have to explain themselves extensively twice in a matter of minutes.
What do you like the most about your role? 
I have got a lot of responsibilities at the Customer Service Desk; it's a pivotal role between our customer, our suppliers and my colleagues. I have gotten to know Minerva quite well in a relatively short period of time. It's a broad function with a variety of job duties in which my contribution can mean a lot to customers and colleagues alike. 
We offer our customers the possibility to have the equipment picked up by us
What type of questions do you get in this period of time when everyone is dealing with the COVID-19 pandemic?
We have lots of questions coming in from our clients abroad. In these uncertain times they would like to know how we at Minerva handle the COVID-19 outbreak. Questions vary between our opening hours and if they have changed at all, to them wanting to know what measures Minerva has taken to contain the spread and minimize the risk of infection for our customers. 
How does Minerva respond to these questions and insecurities regarding the Corona virus?
We unburden our customers and reassure them that calibrations at Minerva are not in danger of being put to a halt. 
We have also started cleaning the equipment extensively upon arrival and before they leave. Also, we offer our customers the possibility to have the equipment picked up by us in cooperation with our logistics partners.
We try to eliminate uncertainty and we are willing to go the extra mile
What does Minerva's promise "ensuring carefree calibration" for our customers mean to you?
We try to eliminate uncertainty and we are willing to go the extra mile, especially in these trying times. In case trouble arises with outsourced equipment, we will actively go out to find a solution and take care of their worries. We keep our customers informed. At the end of the day, all work is done by humans and we don't always have an answer readily available. Many times, I will rely on the expertise of my colleagues and in some cases, they personally reach out to our customer to discuss more advanced/technical issues directly. The customer can always expect to get proper feedback on their question. I think that is what sets Minerva apart and makes us stand out.
What is your personal promise to Minerva's customers?
The moment someone reaches out to us, that person will be guaranteed a good and clear answer to their enquiry. 
Accessibility, straight forward communication and a pro-active approach
The core values of Minerva are integrity, innovative, skilled, involved and service oriented. With each core value, could you give us an explanation or example?
Minerva is a company with integrity. In case a mistake is made, we will tell you what happened. Recently an instrument broke during calibration due to an unfortunate error. As said before, this work is done by humans. We are currently resolving the matter and our customer is appreciative of our approach.  
Due to the Corona outbreak, our lead times unfortunately have been extended. Lots of parts are manufactured in the US or in China. We are quite open about these delays and extensions in lead times, as unfortunate as the situation might be.
The most clear-cut example of our innovation would be the High Pressure Controller, the HPC. The fact that we were able to design such an innovative product mostly in-house demonstrates our developing power that we possess. When I look at Customer Service Desk, I think we are quite innovative and distinguish ourselves in terms of accessibility, straight forward communication and a pro-active approach. 
We understand our customers' needs and wants
The Minerva team is skilled across the board. Everyone at Minerva is quite professional, whatever their role may be. Each person knows their tasks and performs them to the best of their abilities. We are a small team and communication lines are short. We've always used Skype for quick interaction and despite the fact that multiple colleagues are working from home due to the outbreak, I don't feel like communication has become much harder as we are well adjusted to each other.
What makes Minerva so involved is that we understand our customers' needs and wants and that we communicate pro-actively. We focus on the human side of our work, try to help any way we can and we don't let the uncertainties and inconveniences of the present get us down. 
Being service oriented is an important feat of Minerva. We take away our customers' concerns and try to keep the threshold to get in touch with us as low as possible. We can always be contacted via phone or e-mail in case of any questions, we take care of the rest. This low threshold is important as some of our customers who may not operate in our field and are unknown to our jargon, still need to be able to receive the requested service. Guiding the customer in language that is easy to comprehend is key. I am convinced this way of conducting business is valued greatly by our customers.
April 15, 2020