Keeping the promise with Terence Bloem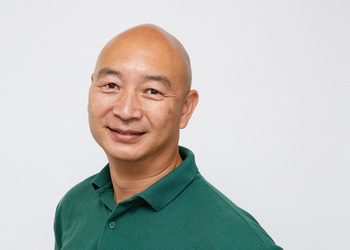 This is the seventeenth article in a series about members of the Minerva team and how they think about Minerva's core values and contribute to the customer promise: "ensuring carefree traceability". 
Jasper talks to Terence Bloem, who started as of May 1 in the role of assistent Technical Services. About time to talk about his background, his contribution to Minerva's promise and experience of the core values. 
Group commander at defense
Terence, being the latest addition to the Minerva team, can you tell us a bit about your career before Minerva?
I have a technical education, MTS mechanical engineering. In my career I have held quite a few positions. I worked in defense for a long time. I started as a conscript, became a professional and have been a group commander and instructor, among other things. I have also been a fitness manager at a gym. Later I worked as an assistant logistics manager at Initial Hokatex, later taken over by CWS Hygiene. I actually did everything that had to do with logistics there and I also took care of the planning.
At a certain point I started orienting myself again on a new job in which I could do more with my technical background and interests. I came across the vacancy of Assistant Technical Services at Minerva on a technical forum. After a few good conversations I was accepted.
Tinkering with equipment
What do you do in your role of assistant Technical Services at Minerva?
I started in logistics and worked a lot with Michiel Schmidt there. I support logistics where necessary and I do, for example, the entrance check of incoming equipment from customers. In addition, I am now also involved in services and repairs. In time I will take over the service of my colleague Jim de Rouw, who will go to the calibration department. He is now familiarizing me with, for example, explaining to me how the administrative processes work and how to place orders for parts.
What do you like most about your position?
My favorite part is tinkering with equipment, to repair broken instruments. No instrument is the same and that makes it interesting and varied for me.
Shorten the lead time for customers
What does Minerva's promise "ensuring carefee calibration" mean for customers in your opinion?
 For me, it means unburdening customers with a calibration and/or repair. The best thing is when customers don't have to worry about their equipment and only have to focus on their own core business.

What is your contribution to Minerva's promise of "ensuring carefee calibration"?
My goal is to shorten the lead time for customers. In fact, I have to make sure that a customer's instrument stays in the service department for as short a time as possible. Fortunately, sometimes a customer can get their equipment back up and running very quickly after calibration if no repair is required.
What is your personal promise to Minerva customers?
Customers can always reach me with questions. In addition, I think it is important to keep customers quickly and well informed about the service process and any details. I take good care of their instruments and make sure that they are properly deployable again.
Make things easier
The core values of Minerva are integrity, innovative, skilled, involved and service oriented.
With each core value, could you give us an explanation or an example?
For me, integrity is making sure I do what needs to be done. In addition, the organization gives me the confidence and freedom to act according to my own insight. I appreciate that.
I have completed a Lean Six Sigma training. When I look at innovation, I think I can contribute to improving processes, for example by speeding up the lead time. I often think about how I can make things easier or avoid doing things twice.
Handle exceptional situations well
As it comes to skilled I see many examples within Minerva. Personally I know how a printing system works and I am well guided by Jim and Carel when it comes to specific technical topics. I am impressed with the process quality within Minerva and the principles behind it. The people of Minerva master the basics, which means they handle exceptional situations well. That is a strong and distinctive side of Minerva that ensures consistent quality.
I notice that the people at Minerva are involved in what they get their hands on or what falls within their responsibility. Receiving and sending is a good example. We try to ship customers' equipment in the same packaging or even better packaged than we received it. Minerva's MT also occasionally participates in the operation, so that they know what is needed.
Return an instrument in a better condition
For Minerva, service oriented means that we ultimately want to ensure that the instrument returns to the customer in a better condition. That means performing a good calibration, answering customer questions and keeping them informed about the process. And of course send the instruments of customers neatly within a fast turnaround time.
October 6, 2021