Fluke anniversary offers: 70 days to get more value for your money!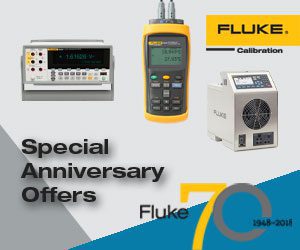 Join Fluke's 70th anniversary
Minerva is happy to cooperate with Fluke for many years. Our partner is celebrating its 70th anniversary!
We would love you to join us in celebrating Fluke's 70th anniversary. For 70 days we're offering the following special promotions.
But hurry. Offers are valid until May 31st, 2018.
Promotions
Buy a Fluke 8846A 6.5 Precision Multimeter for the price of a 8845A.
Buy a Fluke 1524 Reference Thermometer for the price of a 1523.
Buy a Fluke 6109A/7109A Portable Bath or a Fluke 914x Field Metrology Well and get the (-P) process option for free.
Buy a Fluke 2638A/20 or 2638A/40 Data Acquisition System and get 20 channels for free.
Buy a Fluke P3xxx Deadweight Tester and get a Conversion Weight Set for free.
Time frame: 
March 22nd, 2018  -  May 31st, 2018

How to order:
Hereunder you can see which promotions we have for you.
If you want to order, please contact the Minerva sales department sales@minerva-calibration.com and make sure to use the text: FLUKE-70 YEARS-PROMO.
Promotion

Model

At the price of

8846A

8846A 220V

8845A 220V

 

8846A 240V

8845A 240V

 

8846A/C 220V

8845A/C 220V

 

8846A/C 240V

8845A/C 240V

 

8846A/SU 220V

8845A/SU 220V

 

8846A/SU 240V

8845A/SU 240V

 

8846A/CSU 220V

8845A/CSU 220V

 

8846A/CSU 240V

8845A/CSU 240V

 
 
 

1524

1524-256

1523-256

 

1524-P2-256

1523-P2-256

 

1524-P3-256

1523-P3-256

 

1524-P4-256

1523-P4-256

 
 
 

6109A/7109A

6109A-P-256

6109A-256

 

7109A-P-256

7109A-256

 
 
 

914x

9142-x-P-256

9142-x-256

 

9143-x-P-256

9143-x-256

 

9144-x-P-256

9144-x-256

 
 
 

2638

2638A/40 220

2638A/20 220

 

2638A/40/C 220

2638A/20/C 220

 

2638A/40 240

2638A/20 240

 

2638A/40/C 240

2638A/20/C 240

 

2638A/60 220

2638A/40 220

 

2638A/60/C 220

2638A/40/C 220

 

2638A/60 240

2638A/40 240

 

2638A/60/C 240

2638A/40/C 240

 
 
 

P3xxx

P3000 Series
P3100 Series
P3200 Series

See PCAL Price  List for corresponding free Conversion Weight Sets
April 4, 2018