Under Pressure Promotion
Buy an eligible Process Calibrator or product bundles and receive a free Fluke Pressure Module. When a customer buys the Fluke-754, Fluke-753 or Fluke-729 listed in the table below, one pressure module can be selected free of charge (table 2).
The customer can save up to 2400 € depending on the module of choice when buying a process calibrator.
Qualifying Fluke Products

DOCUMENTING PROCESS CALIBRATOR

DOCUMENTING PROCESS CALIBRATOR EURO ONLY

FLUKE-754 DPC AND 750SW DPCTRACK2 BUNDLE PACKAGE

DOCUMENTING PROCESS CALIBRATOR, NON BUS

150 PSI, 10 BAR AUTOMATIC PRESSURE CALIBRATOR

150 PSI, 10 BAR AUTOMATIC PRESSURE CALIBRATOR, W/FC

300 PSI, 20 BAR AUTOMATIC PRESSURE CALIBRATOR

300 PSI, 20 BAR AUTOMATIC PRESSURE CALIBRATOR, W/FC

30 PSI, 2 BAR AUTOMATIC PRESSURE CALIBRATOR

30 PSI, 2 BAR AUTOMATIC PRESSURE CALIBRATOR, W/FC

FLUKE-729 300G AND 750SW DPCTRACK2 BUNDLE PACKAGE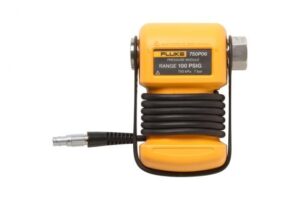 List of pressure module free of charge (table 2)
| | | |
| --- | --- | --- |
| | | |
| | | FLUKE-750P00,PRESSURE MODULE, 0 TO 1 INCH H2O (0 TO 2.5 MBAR), (0 TO 0.25 KPA) |
| | | FLUKE-750P01,PRESSURE MODULE, 0 TO 10 INCH H2O (0 TO 25 MBAR),(0 TO 2.5 KPA) |
| | | FLUKE-750P02,PRESSURE MODULE, 0 TO 1 (0 TO 70 MBAR), (0 TO 7 KPA) |
| | | FLUKE-750P03,PRESSURE MODULE, 0 TO 5 (0 TO 350 MBAR), (0 TO 35 KPA) |
| | | FLUKE-750P04,PRESSURE MODULE, 0 TO 15 (0 TO 1 BAR), (0 TO 100 KPA) |
| | | FLUKE-750P05,PRESSURE MODULE, 0 TO 30 (0 TO 2 BAR), (0 TO 200 KPA) |
| | | FLUKE-750P06,PRESSURE MODULE, 0 TO 100 (0 TO 7 BAR), (0 TO 700 KPA) |
| | | FLUKE-750P07,PRESSURE MODULE, 0 TO 500 (0 TO 35 BAR), (0 TO 3500 KPA) |
| | | FLUKE-750P08,PRESSURE MODULE, 0 TO 1000 (0 TO 70 BAR), (0 TO 7000 KPA) |
| | | FLUKE-750P09,PRESSURE MODULE, 0 TO 1500 (0 TO 100 BAR), (0 TO 10 MPA) |
| | | FLUKE-750P2000,PRESSURE MODULE, 0 TO 2000 (0 TO 140 BAR), (0 TO 14 MPA) |
| | | FLUKE-750P22,PRESSURE MODULE, 0 TO 1 (0 TO 70 MBAR), (0 TO 7 KPA) |
| | | FLUKE-750P23,PRESSURE MODULE, 0 TO 5 (0 TO 350 MBAR), (0 TO 35 KPA) |
| | | FLUKE-750P24,PRESSURE MODULE, 0 TO 15 (0 TO 1 BAR), (0 TO 100 KPA) |
| | | FLUKE-750P27,PRESSURE MODULE, 0 TO 300 (0 TO 20 BAR), (0 TO 2000 KPA) |
| | | FLUKE-750P29,PRESSURE MODULE, 0 TO 3000 (0 TO 200 BAR), (0 TO 20 MPA) |
| | | FLUKE-750P30,PRESSURE MODULE, 0 TO 5000 (0 TO 340 BAR), (0 TO 34 MPA) |
| | | FLUKE-750P31,PRESSURE MODULE, 0 TO 10000 (0 TO 700 BAR), (0 TO 70 MPA) |
| | | FLUKE-750PA27,PRESSURE MODULE, 0 TO 300 (0 TO 20 BAR), (0 TO 2000 KPA) |
| | | FLUKE-750PA4,PRESSURE MODULE, 0 TO 15 (0 TO 1 BAR), (0 TO 100 KPA) |
| | | FLUKE-750PA5,PRESSURE MODULE, 0 TO 30 (0 TO 2 BAR), (0 TO 200 KPA) |
| | | FLUKE-750PA6,PRESSURE MODULE, 0 TO 100 (0 TO 7 BAR), (0 TO 700 KPA) |
| | | FLUKE-750PD2,PRESSURE MODULE, -1 TO 1 (-70 TO 70 MBAR), (-7 TO 7 KPA) |
| | | FLUKE-750PD27,PRESSURE MODULE, -15 TO 300 (-1 TO 20 BAR), (-100 TO 2000 KPA) |
| | | FLUKE-750PD3,PRESSURE MODULE, -5 TO 5 (-350 TO 350 MBAR), (-35 TO 35 KPA) |
| | | FLUKE-750PD4,PRESSURE MODULE, -15 TO 15 (-1 TO 1 BAR), (-100 TO 100 KPA) |
| | | FLUKE-750PD5,PRESSURE MODULE, -15 TO 30 (-1 TO 2 BAR), (-100 TO 200 KPA) |
| | | FLUKE-750PD6,PRESSURE MODULE, -15 TO 100 (-1 TO 7 BAR), (-100 TO 700 KPA) |
| | | FLUKE-750PD7,PRESSURE MODULE, -15 TO 200 (-1 TO 14 BAR), (-100 TO 1400 KPA) |
| | | FLUKE-750PV4,PRESSURE MODULE, -15 (-1 BAR), (-100 KPA) |
| | | FLUKE-750R08,PRESSURE MODULE, 0 TO 1000 (0 TO 70 BAR), (0 TO 7000 KPA) |
Promotion details:
Valid: as per immediate, up to June 1st 2022
Promotion through our VAR partners in EMEA
This offer can not be combined with any other discount or promotion
This promotion is only valid for purchases in Europe, Middle East, Africa, Russia/CIS countries
Fluke reserves the right to change or withdraw this promotion any time without any prior noticeHow the program works:
• Distributor sends the order with item nr of calibrator and module to Fluke and only when the promocode UP-PROMO-2022 is used the pressure module is free of charge (100% discount
Ask for a quote 
For a quote please contact our sales department: 
March 11, 2022