Summary of the results of the customer survey for 2022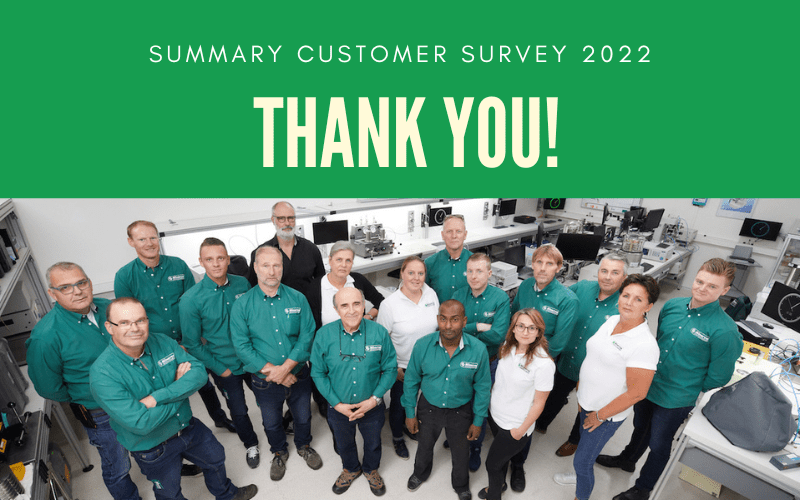 Every year in May we invite our active customers to share their experience in working with Minerva.
We are happy with the results and your appreciation as a customer, but the downward trend is one of the reasons to improve the Minerva calibration service.
The most important results of the customer survey in 2022
The response was 9%, 80 customers completed the online survey. 
More than 85% of the respondents think that our brand promise "ensuring carefree traceability" is fulfilled by Minerva. last year it was 96%. 28% are fully convinced of this, last year it was a lot higher at 50%. This is remarkable. 
More and more people are using the portal; 12% now prefer the portal to personal contact with Minerva. 8% of the customers think the portal is useful, and use it to follow their RMA. 24% prefer personal contact with Minerva. 39% have never used the portal, but do have that intention. 
All Minerva core values are recognized, especially integer, skilled and service oriented. The core value innovative shows a decrease compared with earlier years. 
The Overall Score Customer Experience for Minerva is 

8.5

, slightly lower as the high score of 8.8 last year. But still a sign that most customers appreciate Minerva.
The Minerva Net Promoter Score (NPS) is 48, lower than last year when the NPS was more than 61, but still something we are satisfied with. The score means that Minerva is recommended by many customers to colleagues and business partners. 
Longer turnaround time
According to the responses it is clear that our customers are experiencing a lower experience of the Minerva service due to a longer turnaround time in pressure calibration in our own lab.
We realize that the high scores last years on customer experience and NPS on the one hand and the high Minerva servicestandard on the other hand are hard to maintain. Yet it is very clear to us that turnaround time makes the difference in the overall customer experience. 
Therefore we see the outcome on a lower customer experience than the high scores last years as an extra incentive to put our best effort the next months to improve the turnaround time for the Minerva customer. We took measures which impact the pressure calibration service. You can read about these measures in this article. 
Room for improvement
Luckily an important conclusion is that the quality, communication and customer service of the Minerva team is still greatly appreciated by our customers.
Although The Minerva team is very happy with your appreciation as a customer and trust in us, we see enough room for improvement to live up our customer promise.
If you have any thoughts or feedback regarding to live up to our customer promise, please let us know.  
We thank you for your feedback! 
June 29, 2022